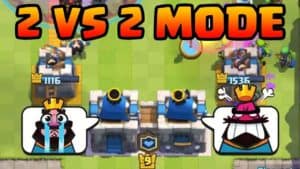 Hey guys!
Today we're gonna discuss about the Summer of 2v2. That's Right! A whole summer full of 2v2 battles , with your friends, or randomly! What's more, there will be special events held every week! No more ladder-grinding, no more empty chest slots, and no more frustration of losing to Royal Giant! Just sit back, relax, and enjoy the Summer of 2v2.
---
Many players felt the need for a stress-free game mode where there would not be a downside of losing trophies or getting demoted down to lower leagues, and Supercell thus came out with the 2v2 mode, where you can just play as long as you want with your friends and test out new cards and fun decks. Additionally, players will also receive Chests as per their chest cycle! Basically, you will get rewarded when you win, and if you don't, you don't lose anything! That's a guaranteed no-losing situation.

Your home screen in Clash Royale will now have two buttons: the Battle button and the 2v2 button which will stay there throughout the whole month of July. Today we'll be covering all the information we have about the Summer of 2v2.
When starting a 2v2 Battle, two options will pop out: Quick Match or Play with a Friend , as you can see from the screenshot below: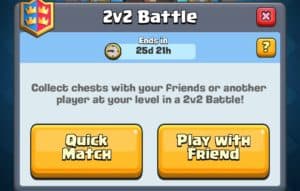 ---
When you choose Quick Match, the matchmaker pairs you up with someone random in the world and you two battle against two other players. When you choose Play with Friend, it will take you to a screen to pick your somebody from your Friends List that is online or you can share to your clan and it will send a request to the clan chat so you can play with someone from your clan.
Along with the return of the 2v2 button, the Clash Royale Team also created new 2v2 challenges. They are as follows:
All Month: 2v2 Quick Match and Play with Friends (+ Clan Chest every weekend!)
•June 30: 2v2 Challenge
•July 7: 2v2 Draft Challenge
•July 14: 2v2 Sudden Death Challenge
•July 21: 2v2 Double Elixir Draft Challenge
•July 28: 2v2 "Special Event"
---
Let's get into each one of the events in detail:-
1)
Event #1-The 2v2 Challenge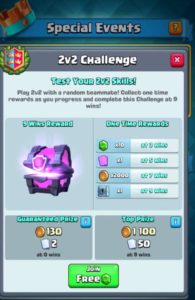 The 2v2 Challenge was held from 30th june-2nd July.
It was like a normal grand challenge, with half the normal rewards, and the 2v2 twist. Every player will get 1 free entry, after which it will cost 10 gems to enter. The downside, as some might say, was that you could NOT play with your friends, as the matchmaking was random. This however, ensures that matches are a suspense, and there are no " Helpful" combination of decks. Thus, it is balanced. There were times when people, including me, were matches will lower level "noobs" as we like to call them. This made us feel helpless. But hey, that's life.
The Prizes:
As this challenge was held last week we do know about the prizes.
There was a standard challenge prize of 1100 gold and 50 cards.
Additionally, there were one time rewards.
At 3 wins- 10 Gems.
At 5 wins- 1 Random Epic card.
At 7 wins- 2000 gold
At 9 wins- 1 Magical Chest.
The challenge was a huge success. That's just the beginning of the Grand Summer though!
---
Event #2- 2v2 Draft Challenge

The 2v2 Draft challenge starts on 7th July , Friday, and Will Run through the whole weekend.
It will too be similar to the Normal Draft challenge, where all 4 players will have to pick 4 cards for themselves and the remaining 4 will be given to one of the opponents. This challenge will be extremely fun to play, as nobody knows what cards they or their opponent will get. This allows for extremely fair matches, and skilled gameplay. As this challenge is tougher, the prizes will too be higher.
Every player will get 1 free entry, after which it will cost 10 gems. The rewards will be half of that of a classic challenge, with 9 wins the most. And, with the one time rewards, I would definitely recommend everybody to try for those rewards.
The Prizes:
At 3 wins- 1 Golden Chest
At 5 wins- 1000 gold
At 7 wins- 10 Random Rare Cards
At 9 Wins- 5000 Gold
I believe cards like the graveyard, Night Witch, etc. along with spells like rocket, fireball, and maybe even clone and rage will be very strong.
---
Event #3- 2v2 Overtime Challenge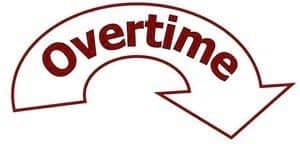 The 2v2 Overtime Challenge will start on Friday, July the 14th, and will run through the weekend, like the other challenges.
It will be similar to the normal Overtime Challenge, where it's overtime, all the time! Players will have to be very cautious about protecting their towers and selecting the right moment to push for the single crown victory. There will be ABSOLUTELY no chance of taking a heavy deck, as even a little heavy troop will trigger your opponent to push with all they got. Cards like the Miner, zap, Goblin Gang, and even spells like the fireball and rocket will DOMINATE.
Remember, protect each and every damage possible. Every hit counts. It's all about managing your elixir and making that split second decision about whether to push or to defend.
NOTE: Due to this challenge not being released yet, we aren't sure of the exact rewards, and hence, we can only speculate
I believe that the rewards will only keep becoming better and better as the challenges progress.
What cards /Decks do you think will be popular? comment below!
---
Event #4- 2v2 Double Elixir Draft Challenge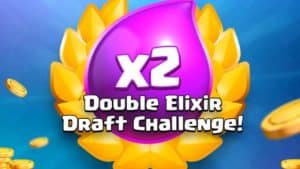 The 2v2 double elixir draft challenge starts on 21st july, and will also continue through the weekend.
The challenge will be a mix of the draft challenge and the double elixir challenge where all four players will have to choose 4 cards and give the other 4 to their opponents. Along with this, the speed of elixir replenishment, will be twice as fast ALL THE TIME . This will allow for interesting yet unexpected matches. Just like all the other 2v2 challenges, the matchmaking will be random, meaning you will be matches up against a random people around the globe.
I think Heavy decks will be popular in this challenge, and , even though one wont have a perfect deck, people will tend to choose the more "tankier" deck. Comment below about what you think will be the best cards. Graveyard, for example, combined with tanks will be strong.
---
Event #5-2v2 Special Event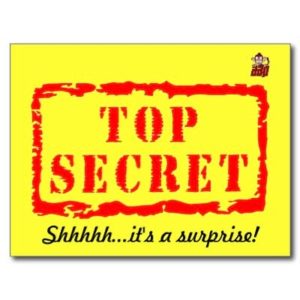 The Name says it all, and yet says nothing.
Last, but definitely the biggest, The Special event will start on 28th july, run through the weekend, and wrap up the Summer of 2v2. The details have not yet been revealed, but the name Special Event, is enough to tell you that it's going to be HUGE. Maybe it will be an entirely new mode, Maybe a ladder for 3 days and whoever comes out on top will receive huge rewards, who knows. We can only speculate. The Summer is going to be exciting, that's for sure.
Hope you guys found this informative. Feel free to comment below. Till next time!